If you are living close to a very commercialized area, you might prefer to walk as this would be your main transportation mode. However, sometimes there are instances when you need a vehicle to get you to the next destination. If you are not interested in getting yourself a vehicle for the long-term, then the short-term option is to opt-out for car sharing. This concept has been around since 1948 with its origins in a Swiss organization called Selbstfahrer Gemeinschaft, also known as Sewage. In 1948, purchasing a vehicle was a costly thing. Therefore, sharing cars for a trip made a lot of sense. Soon car-sharing began to gain popularity in the parts of Europe. Canada joined in the mid-1990s and the U.S. followed right after in 2000. This is right about the time when car-sharing organizations began to create an industry for themselves. The Australian continent too followed this trend and adopted the car-sharing concept. The reason why this movement took place was due to the increase in prices of gas, pollution, vehicle congestion, convenience and the introduction of cheap parking. Currently, there are approximately 350,000 individuals who are members of car-sharing companies. There are approximately 12,000 vehicles in this community and the numbers continue to grow.
How does it happen?
As this concept is unique, the process of car sharing bookings is ingenious. A member will choose to book a vehicle and based on the company that you approach, you will be able to make reservations over the phone, a text message, a mobile phone application or online. The cost to become a member will differ from company to company as well. The reservation will require a few questions to be answered such as:
What is the pick up time?
What is the duration of using the vehicle?
Where would you prefer to pick up the vehicle?
What type of vehicle would you prefer?
Based on your needs, the reservation can be made in advance or even on the spot. You need to remember that the minimum time for the usage of a vehicle is one hour. Another thing to remember is that even when you need to make a last-minute cancellation, you will still be charged a small fee or the entire cost.
When you get to the parking lot designated for car sharing vehicles, you will have to use your membership card and just swipe it on a card reader as soon as you get inside the car. The reader is usually located close to the windshield from inside the vehicle and this technology is quite advanced to comprehend. The keys are usually placed inside the vehicle's glove box. Some organisations may employ different techniques of authentication. Before you drive off ensure that you make sure that nothing is damaged so that you cannot be charged unfairly. Take a few photographs if there are any damages so that the time stamp will help you prove that the damage was not done by you. Reporting any damage not caused by you should be done immediately.
Once you are done with the vehicle, just bring it back to the same spot that you picked it up.
Policies
The policies of each company will differ from one to another based on the preferences and the customer base. There are various types of payment plans that are available such as a monthly billing system or most common pay-as-you-go plan. Certain organizations will require an annual fee whereas other companies will provide a base rate and the additional costs for every kilometer covered. The cost of gas and insurance is included. However, the policies regarding fuel depends on the company that you deal with. Some companies provide a card for gas while others will reimburse the costs for gas as long as a bill is produced during reimbursement.
If you make a mess of the interior or exterior of the car, you need to ensure that you get it cleaned before you return it. The company will charge you for cleaning it if not. You will be charged if you do not return the vehicle back after the time you mentioned that the vehicle will be used.
Navotar – The leading car rental software company is doing its research and development on car sharing and hoping to release their car share software very soon.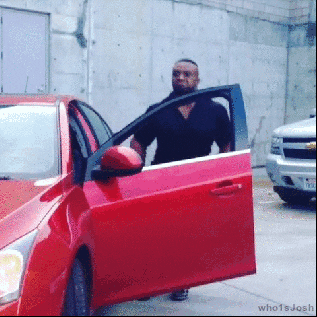 SOURCE – GIPHY
Image credits – brokeinlondon